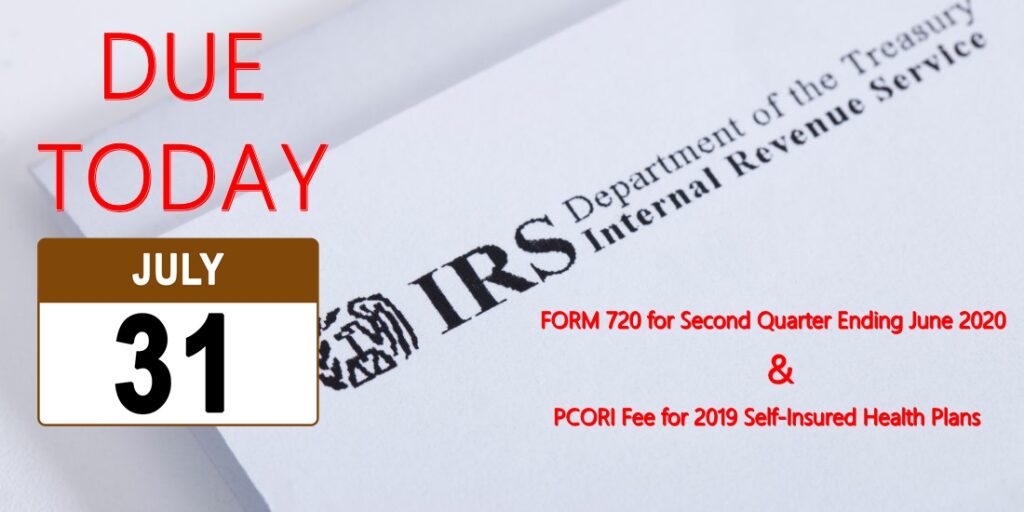 TaxExcise.com the only E-file service provider that helps to report all the federal excise tax forms and all schedules of Form 8849 refund claims would like to remind taxpayers that the excise tax form 720 for the second quarter of 2020 ending in June 30th and PCORI Fee, is DUE TODAY.
PCORI FEE:
Patient-Centered Outcomes Research Institute (PCORI) fees are also due TODAY. 2019 PCORI must be reported on the second quarter of 2020. While filing your return using www.TaxExcise.com, please select the year Jan – Dec 2020 and quarter ending in June 2020, and have your 2019 PCORI filed. The PCORI annual filing and fees was originally set to expire in 2019, but they were reinstated for an additional 10 years, through 2029.
Form 720 and Form 2290 tax requirements for small businesses:
The quarterly Federal excise tax Form 720 and Heavy vehicle use tax Form 2290 is usually filed by various types' of small businesses for different products and industries, and these Forms filing varies depending on the nature of each business.
Form 720, applies to retailers, manufacturers, communications companies, and travel services. It's a quarterly return and filed 4 times a year, usually due by the following month end of each quarter. DUE TODAY for the second quarter filing.
Owner operators and Companies that operate heavy highway vehicles must file Form 2290 by the last day of the vehicle's first month of service. Which makes the Form 2290 due TODAY, one last time for the tax year 2019-2020 for vehicles first used in June 2020.
Zero Tax Liability:
If you do not have any excise tax to report on Form 720 for the second quarter of 2020, you must file and report a Form 720 by selecting the option for a Zero Tax Liability in order to stay compliant with the IRS.
E-filing is the right choice since it's the DEADLINE TODAY:
The IRS e-file services are fully operational and the tax returns are processed by the IRS online within minutes even during this ongoing pandemic. However, it's not the same case with paper filing, since IRS offices are currently closed or working with limited staffs, most filers will find it difficult to file a paper return on time.
To ensure we are able to provide you with the best customer service, our tax experts are at your disposal for any Federal tax-related questions, we would even walk you through the online filings. Log on to www.taxExcise.com to get started. Feel free to reach us on our toll-free number @ 866-245-3918 or drop us an email to support@taxexcise.com do also try out our LIVE CHAT option available on the website. We're available on all Business days between 9:00 AM to 6:00 PM Central Time. Thank you for your support.