Dear form 720 taxpayers! The deadline to report your federal excise tax for your product/business for the fourth quarter of the tax year is due soon. Therefore, you must e-file form 720 for the fourth quarter before January 31 in TaxExcise.com, get the acceptance from the IRS and stay ahead of the deadlines. The IRS will charge hefty penalties, late charges, and interests if you miss the deadline to report and pay your taxes.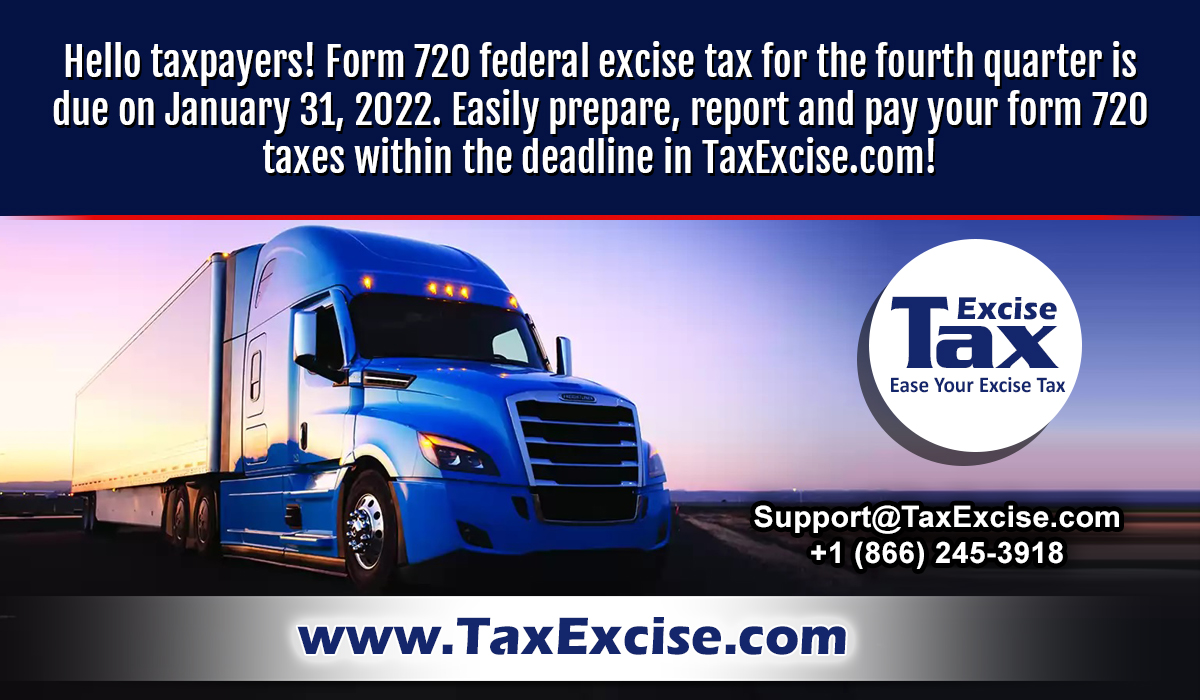 IRS is closed for maintenance!
The IRS closed for its routine system maintenance activities. During this system maintenance period, they will not process any tax returns and send acknowledgments or receipts. So, you must wait until they open for business to submit your tax reports. But that's not the case with TaxExcise.com; you can easily prepare your form 720 tax returns at your convenient time. We will securely hold it in our system and transmit them to the IRS as soon as they start accepting new returns. So, your tax report will be among the first to get processed, and you will receive the acknowledgment directly to your email at the earliest.
Form 720 federal excise taxes for the fourth quarter!
The federal government imposes quarterly excise taxes on certain products and services. The taxes are paid every quarter of the tax year by the users, owners, dealers, and importers of the particular products and services to the IRS through the federal excise form 720. You need to identify the category or line in which your service/product in form 720 and report the taxes accordingly. As the deadline to report your federal excise taxes for the fourth and final quarter of the tax year is approaching, you must file form 720 quarterly excise taxes to the IRS on or before January 31, 2023.
TaxExcise.com is the best platform to e-file form 720 online!
TaxExcise.com is an IRS-approved modernized online tax e-filing service provider. You can easily e-file form 720 in all the parts and categories for your businesses and services. Since form 720 is the quarterly excise tax and must be filed/reported every quarter within the deadline, e-filing form 720 at TaxExcise.com is the best way to do that. You don't have to go to the IRS office and paper file every time. You can simply register at TaxExcise.com for free and e-file form 720 directly to the IRS in a few minutes. We also facilitate all the IRS-approved online tax payment gateways. We ensure the smooth transaction of your tax payments in our highly secure network.
For queries and support, please contact our customer help desk at 1-866-245-3918 (toll-free) or write to us at support@taxexcise.com; we will reply to you promptly.