Hello, truckers and trucking taxpayers! TaxExcise.com welcomes you to e-file Form 2290 HVUT returns on our platform. We are an IRS-approved Form 2290 HVUT modernized e-filing service provider, where all truckers and trucking taxpayers can use our platform for effective and efficient Form 2290 e-filing services. Also, the IRS made Form 2290 e-filing compulsory for taxpayers filing truck tax returns for 25 or more vehicles in their fleet. They encourage all truckers to e-file Form 2290 online because the process is smooth, convenient, and automatic. The IRS can process the tax returns in minutes and instantly send the watermarked Schedule 1 copy as proof of payment to your registered email.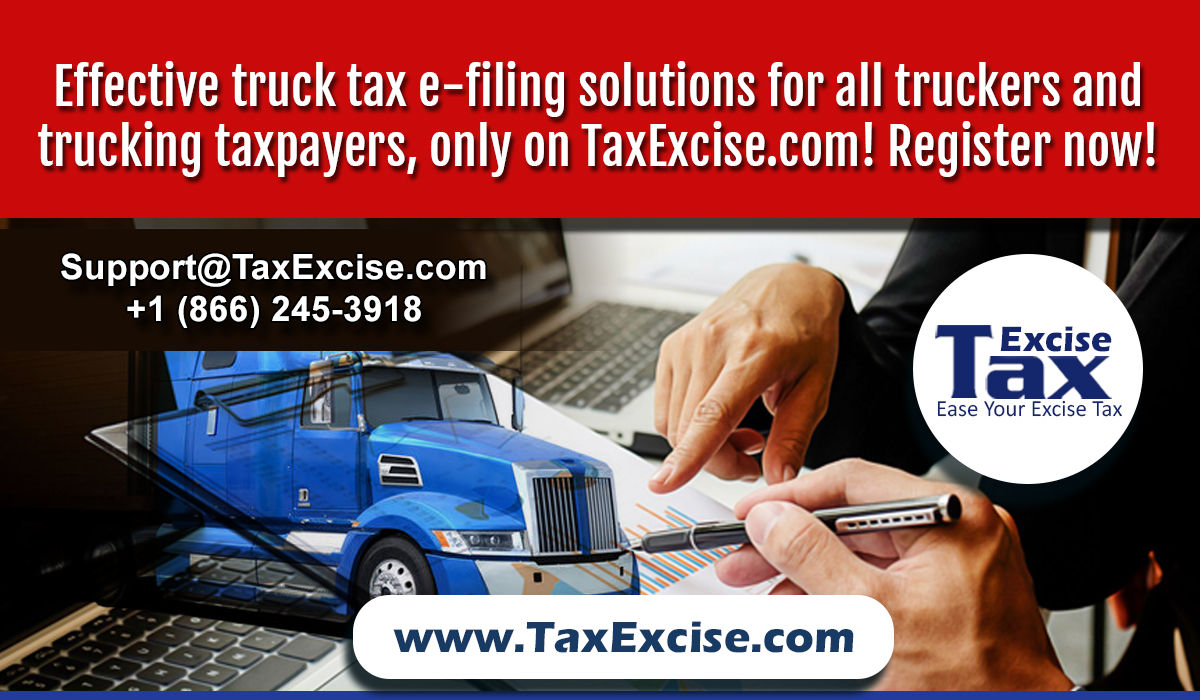 Our platform provides all the necessary facilities to prepare your 2290 reports smoothly and quickly. You can use the bulk upload, import information, clone tax returns, and tax calculator features to speed up your process and save time and money. You can prepare and report Form 2290 returns on the go. All you need is a strong internet connection and a smart device like a laptop or smartphone to e-file Form 2290 for all your heavy vehicles or trucks on the go. Once you finish this process, the IRS will process your tax returns at the earliest and issue the Schedule 1 copy to your email address immediately.
Get started on TaxExcise.com!
So, why the wait? Get into the new era of tax filing with TaxExcise.com. Visit our website at www.taxexcise.com and register to create your user account. Registration is absolutely free on our platform, so you don't have to pay anything upfront, and there are no hidden charges. Enter basic information, like name, email, and phone number, to create a user account. After that, set your username and password with the proper authentication link sent to your email. Voila! You have successfully registered and can now have your own TaxExcise.com account/ profile. You can add your business by providing a valid business name and other details. Remember that you can add multiple businesses under your user account.
Things you need to e-file Form 2290 HVUT on TaxExcise.com
Keep the following details ready to e-file Form 2290 HVUT,
Business details.
Employer Identification Number (EIN): if you don't have one, apply for one ASAP.
VIN of all heavy vehicles.
Total gross weight, mileage, and vehicle type of all heavy vehicles.
Preferable tax payment method.
E-file Form 2290 in a few simple steps. 
Sign in to your account.
Select your business.
Click 'Start New Return' to begin preparing your 2290 reports.
Enter vehicle information and details. Or use our bulk upload option to upload all vehicle information through an Excel sheet in a single click.
Calculate your tax amount; use our tax calculator feature for accurate calculations.
Double-check your tax returns using the 'Validate' option.
Pay the service charge based on your preferred package via credit/ debit card.
Transmit your tax returns directly to the IRS and pay your tax dues.
Once you complete these steps, the IRS will process your tax returns at the earliest and send the digitally watermarked Schedule 1 copy to your registered email address. You can download, print, and use it as proof of the 2290 tax payment with the concerned departments and authorities.
For more queries about Form 2290 taxes or e-filing Form 2290, please don't hesitate to contact our customer support team at 1-866-245-3918 (toll-free), available from 8 AM to 6 PM EST on all working days or write to us at support@taxexcise.com; we will reply promptly.