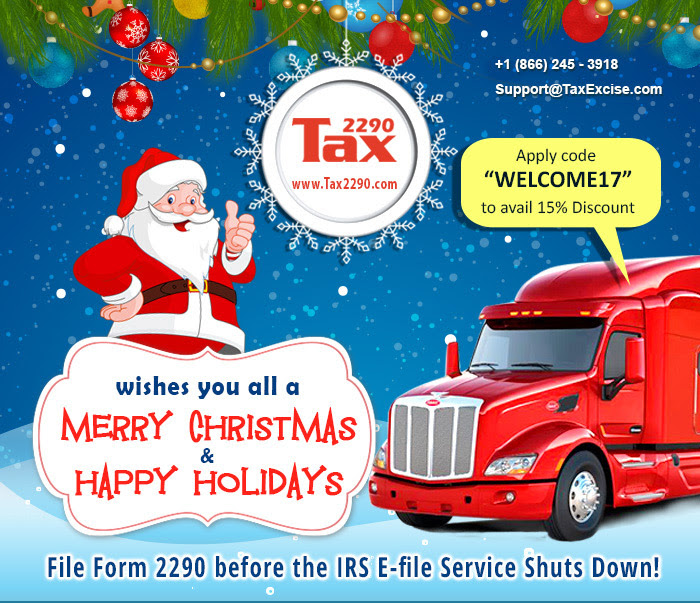 This is our wish for you: peace of mind, prosperity through the year, happiness that multiplies health for you and yours, fun around every corner, energy to chase your dreams, joy to fill your holidays! We at www.Taxexcise.com  are not going to stop here just by wishing you a Merry Christmas. We would love to gift every single Tax payer who E-files their Excise tax Form during this Holiday Season.
Starting Today December 20, 2016 till the end of this year, you can avail a flat 15% off on our service fee. To avail this all you have to do is simply apply the promo code "WELCOME17 "on the promotions and discount page, before you make a payment for the service with your credit / debit card. We may not hand deliver your gifts but you can save a minimum of $4.50 and go up to a maximum $64 from our service fee and gift yourself with anything.
Important Notice: Like every Year the IRS E-file Servers will be shut down for year end Maintenance on December 26th, 2016 and will stay down till January 06th, 2017. Any tax return submitted during this period will be processed by the IRS only when they resume operations. It is highly recommended that you submit your Federal Excise Tax Returns on or before December 23rd, 2016 because the IRS will not be working on weekends and even on December 26th for Christmas.
For any questions or queries you may have feel free to reach our tax Experts @ 1-866-245-3918 or write to them @ support@taxexcise.com . HAPPY HOLIDAYS!!!!!