With books turning into eBooks, print newspaper firms shutting down because of electronic newspaper at the tip of the hand of customers, everything has become concise, fast and electronic. With our daily pleasure increasing due to technology changes, why not do the same for our tax returns. With the technology revolution, everything is electronic and so are our tax returns. When you sit down to work on your paper tax returns, a lot of times it gets messier, you get frustrated, you have to turn the pages over and over again to make sure it is done right and nothing will be a hindrance for your tax return.  This can be quite frustrating.
Spare yourself from the headache, eye strain, and hand and muscle cramp. Use the technology that is being offered to you by us. With the use to E filing,
You can have accurate filing with less that 1% chance of errors.
Your personal and financial information is secured since it is sent to IRS through encrypted lines. So no more worries of your information going to the wrong hands.
Save time, money and energy by going paperless. Give your hands and muscles some rest.
Faster Refund!!!!!
Get acceptance receipt on completing and submitting your tax returns.
Double check by the software itself if any information is missing. Hence even more accurate.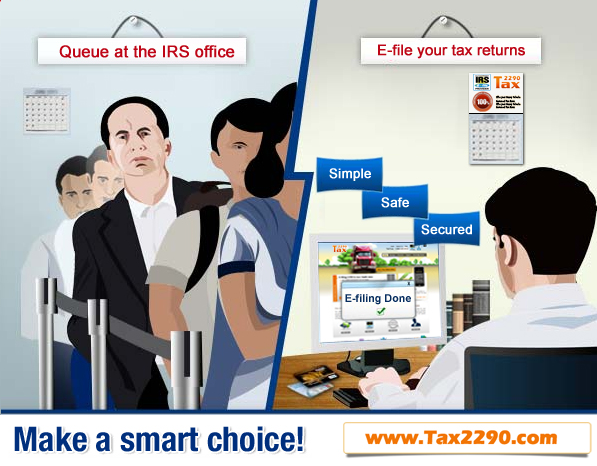 With the help of our on-line application on Tax2290.com,
You can bulk upload all you vehicle information at the same time from your computer. (Saves Time and money)
You can add all and delete all if mistake has been made or if needed.
We keep your records safe so in case of amending your previous tax returns, you can also do it electronically which will lessen down the hours you work on to gather all the information from previous years.
A full summary of your tax return is provided to you before you hit that final 'Submit' button.
'Error Check' option is like a 'Cherry on the top' for making sure you didn't miss any information.
Save the envelopes and stamps for other documents since we offer paper filing and E filing for your tax returns.
Filing your tax returns through Tax2290.com is very simple. The filer need not to be a computer savvy to file their tax forms with Tax2290.com. The application is designed in a way that even a first time filer can file it with ease. There are plenty of help texts on every screen you navigate and all the complicated IRS Tax Jargon's are broken down to simple English. Tax2290.com gets your returns filed faster than anyone else.
The application is filled with lot of other additional features like Text Alert, Fax and emailed copies of your stamped Schedule 1. The unique text alert feature will send you an instant text message to the assigned mobile phone as soon as there is an update from the IRS on the status of your tax return. If the filer opts for the fax option the stamped receipt from the IRS will be automatically faxed to the fax machine of the filer.
Though the application is very simple, we will not leave you all by yourself on the website. You can avail help form the friendly customer support team any time you want through live chat on the website. You can call them @ 1-866-245-3918 or email them to support@taxexcise.com.