Dear taxpayers! The last date to file your quarterly federal excise tax reports using form 720 for the third quarter of this tax year is October 31, 2022. Therefore, you must report form 720 before the deadline to stay away from penalties and late charges. And e-filing form 720 at TaxExcise.com to report your federal excise taxes is the best way to file them to the IRS before the deadline. Let's look into the advantages of e-filing form 720 in TaxExcise.com,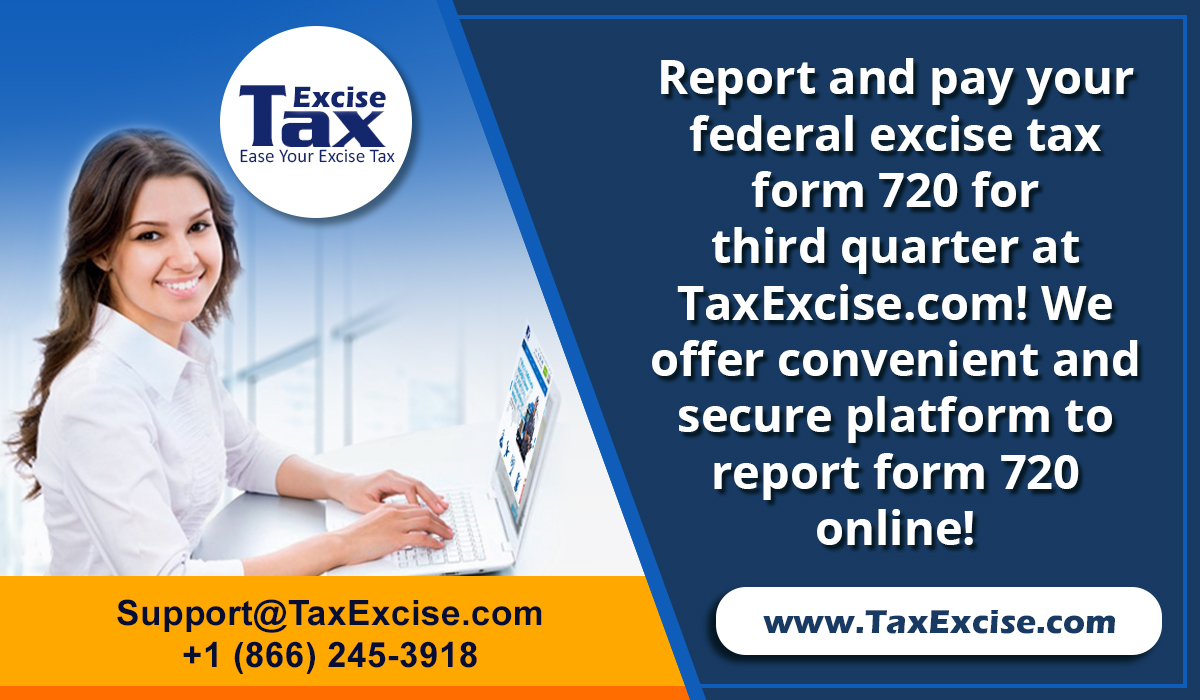 Perfect form 720 online e-filing experience!
You can perform your quarterly form 720 federal excise tax filing at TaxExcise.com smoothly. As form 720 contains many sections, parts, categories and IRS lines, you find it difficult to spot your right line in the form and report your taxes to the IRS. But TaxExcise.com have made that process easy for you; you can easily choose your line/category from our interface, and then you can proceed with tax e-filing and reporting. This way, your form 720 tax e-filing will be accurate.
Uninterrupted service and access to e-file form 720!
As TaxExcise.com is available 24/7, you can access our portal anytime you please with your PC, laptop, and smartphone from the comfort of your home/office. TaxExcise.com will keep you posted regarding tax deadlines, last dates, IRS policy changes and updates. You will get premium services, and we will make your federal excise tax filing simple and stress-free.
End to End Encrypted Security to e-file form 720!
TaxExcise.com offers an ironclad online environment to safely e-file form 720 quarterly federal excise tax reports to the IRS. All your information and transactions are kept, handled and transmitted securely in our portal as it is encrypted end to end with our latest technologies.
Instant Acceptance from the IRS!
Once you complete your form 720 e-file and transmit it to the IRS, they will immediately process your 720 tax returns and send the proper acknowledgment of your tax payment. Therefore, you will get the necessary acknowledgment of your 720 tax payment from the IRS directly to your registered email within a few minutes of your 720 e-filing at TaxExcise.com.
Unlimited online tax record keeping!
Form 720 taxpayers can save their business information, tax information, data, e-filing histories, transactions, and tax acknowledgments from the IRS in their TaxExcise.com profile. You can access all those information and data from your profile on the dashboard. They are always yours to control, edit and transfer.
Exclusive Pricing to benefit all taxpayers!
TaxExcise.com offers you comfortable pricing packages to e-file form 720 federal excise taxes in the market's most affordable and competitive price structures. You will get yearly packages to e-file form 720 for the entire tax year (four quarters) and seasonal pricing based on your preferences.
All IRS-approved tax payment methods to pay your 720 tax dues! 
Our portal supports all IRS-approved online/electronic tax payment methods like EFW, EFTPS, credit/debit cards, and check/money orders. You can easily e-file form 720 federal excise taxes for the quarter, pay the tax dues through your preferred payment method securely and get the acknowledgment from the IRS instantly.
Capable support team at your service!
The entire platform of TaxExcise.com is a DIY process in which you can easily e-file form 720 quarterly federal excise taxes all by yourself. And you have our customer support desk to guide you through the process and queries in your online tax filing. Give us a call and talk to our customer support executives at (866) 245 – 3918.