Hello, truckers! Do you know? TaxExcise.com is the first modernized online e-filing service provider to get the authorization to provide Form 2290 e-filing services to the hardworking trucking community of the United States. We are one of the trusted partners of the IRS and a vast range of trucking taxpayers in Form 2290 online e-filing every tax season. TaxExcise.com made e-filing simple and accessible for all truckers. Anybody can e-file Form 2290 online for any number of vehicles within a few steps at TaxExcise.com. We have dedicated web and mobile applications that cater the e-filing needs across all platforms. Truckers can easily e-file Form 2290 online from the comfort of their home/office using smartphones, PCs, laptops, and tablet devices. Once you e-file Form 2290 to the IRS on TaxExcise.com, they will process your tax returns as soon as possible and send the IRS digitally watermarked Schedule 1 copy to your registered email address. You can complete the entire Form 2290 e-filing process and get the Schedule 1 copy to your email within a few minutes.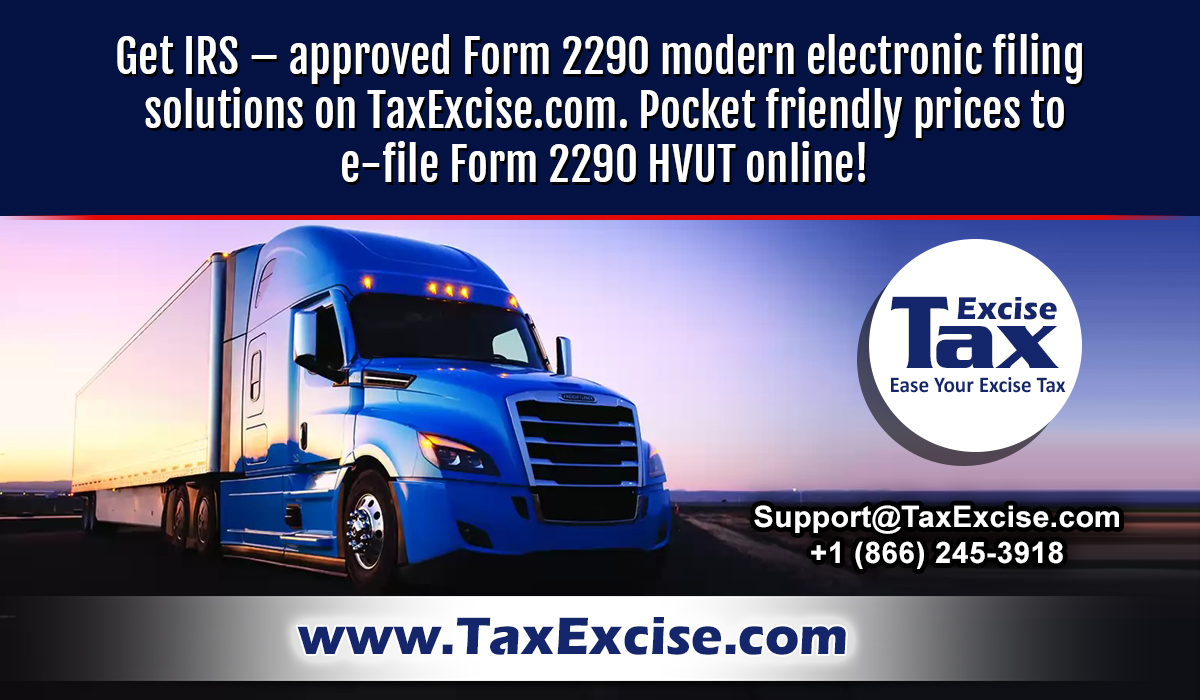 Pre-file Form 2290 is the effective way to stay ahead in this new tax season.
The new tax season, 2023 – 2024, is approaching in a few weeks. Therefore, truckers and trucking taxpayers must get ready to report Form 2290 truck taxes for TY 2023-24 and get the Schedule 1 copy within the deadline. The last date to report Form 2290 to the IRS is August 31, 2023, and the IRS opens for accepting 2290 reports during the first week of July. So, the truckers have hardly two months to prepare, report the 2290 truck taxes and get the Schedule 1 copy. But the IRS will be flooded with Form 2290 reports, so getting your truck tax returns processed on time might be tricky. To overcome the seasonal rush and to make you get your Schedule 1 copy at the earliest, TaxExcise.com have introduced Pre-file Form 2290 online. You can prepare and pre-file Form 2290 weeks before the tax season on TaxExcise.com. We will hold it for you and transmit your tax reports first thing once they open for the new season. Your 2290 tax reports will be among the first tax returns to reach the IRS for processing, and you will get the IRS schedule 1 copy as soon as the tax season begins. Through Form 2290 pre-filing, you will get more time to prepare your tax returns and stay ahead during this new tax season.
Form 2290 Pre-filing is coming soon on TaxExcise.com!
TaxExcise.com is opening for Form 2290 Pre-file in a few days. Stay tuned for updates through our blogs, and follow us on our social media pages. For more information about pre-file Form 2290 for TY 2023-24, contact our customer support team at (866) 245 – 3918 on all working days from 8 AM to 6 PM EST, or write us at support@taxexcise.com for more queries.