Hello, truckers! As the new tax season is arriving in a few weeks, TaxExcise.com is accepting Form 2290 pre-filing for the benefit of the trucking community. Truckers and trucking taxpayers are actively pre-filing Form 2290 tax reports for the upcoming TY 2023 – 2024 to stay ahead of the crowd and get the IRS digitally watermarked Schedule 1 copy at the beginning of tax season. If you are a regular Form 2290 taxpayer, pre-file Form 2290 on TaxExcise.com, sit back and relax. We will ensure your Form 2290 reports reach the IRS on time once they start accepting Form 2290 reports around the first week of July.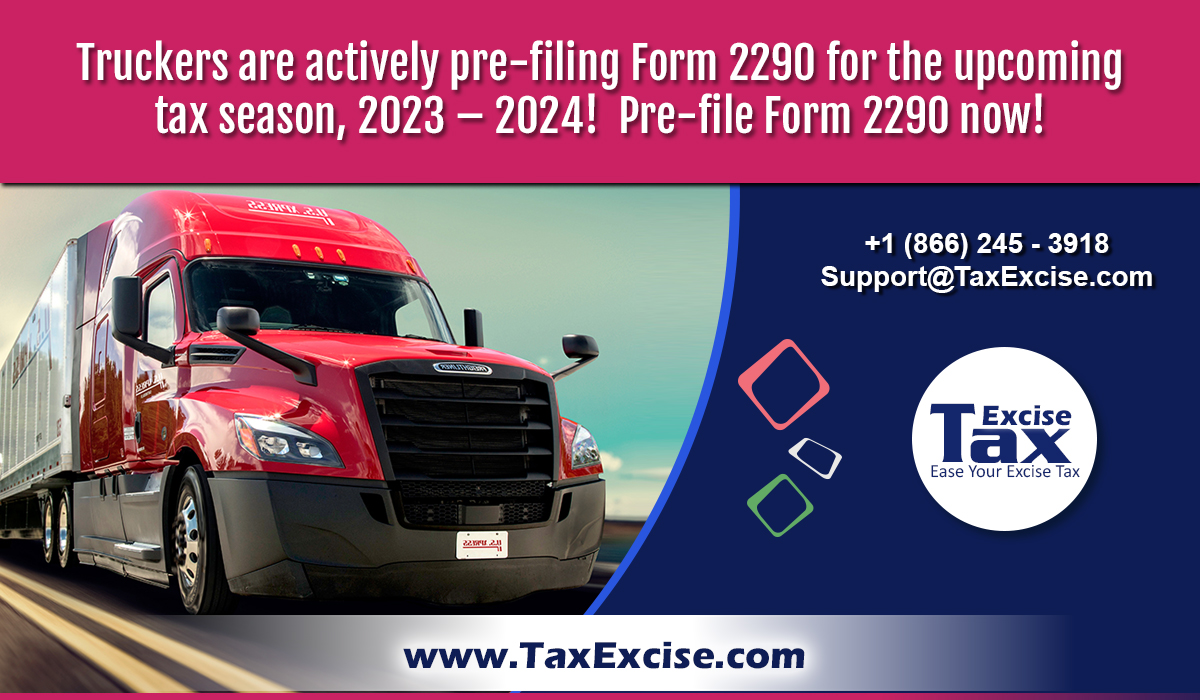 Let us look into the top advantages of Form 2290 pre-file on TaxExcise.com,
Early-bird chance to report your Form 2290 returns.
Generally, a tax period starts in July and lasts till next June. IRS begins to accept and process Form 2290 HVUT returns in the first week of July. As almost all truckers and trucking taxpayers will report their Form 2290 tax reports, the IRS will be flooded with Form 2290 requests. You might face delayed tax processing, inaccuracies, and last-minute tension. Therefore, TaxExcise.com offers you this pre-file Form 2290 option for the new TY, 2023 – 24, to give you a head start in your Form 2290 preparation. You can pre-file Form 2290 online weeks before the tax season starts.
Get your Form 2290 returns processed first.
IRS works on a first-come, first-served basis. You must remember that the IRS accepts Form 2290 tax reports only after the beginning of the new tax season. Therefore, we will hold your pre-filed Form 2290 tax reports in our secured system and transmit them once they accept Form 2290 reports. Your Form 2290 tax reports will be among the first to reach the IRS and will be processed before the crowd hits.
Avoid IRS penalties for late filing.
The time window to report your Form 2290 taxes is two months. You must report Form 2290 tax reports and get the IRS-stamped Schedule 1 copy within this time. Remember that IRS is very strict about deadlines, and you cannot operate your heavy vehicles without a proper Schedule 1 copy. Also, if you miss the deadline, the IRS charges heavy penalties, late fees, and interest on your 2290 tax dues. So, Form 2290 pre-file online on TaxExcise.com is the most effective way to stay ahead of the deadline and avoid the seasonal surge in this new tax year.
Get the Schedule 1 Copy at the beginning of tax season.
You will get the IRS Schedule 1 at the earliest. Pre-filed Form 2290 tax returns reach the IRS once the tax season starts at the beginning of July. Therefore, IRS will process the pre-filed tax returns first and send the digitally watermarked Schedule 1 copy to your email ID as soon as the tax season begins. Through Form 2290 online pre-file, you can save a lot of time; you don't have to worry about deadlines. Pre-file Form 2290 now, get the Schedule 1 copy at the beginning of tax season and smoothly continue your trucking operations.
Exclusive discounts, offers, and coupon codes for pre-filers.
Also, you can avail of attractive offers and discounts on your Form 2290 pre-file on Tax2290.com. Reach our customer support team at 1 – 866 – 245 – 3918 (toll-free) to know more about our offers. Pre-file Form 2290 on Tax2290.com and save time and money in this new tax season.