So you just got your new season July 2012 – June 2013 Tax Form2290 out and you are ready to e-file your tax return. Then you go around the Internet looking for a site to do your taxes on. When you find the site, you go through all of the entering of your business information. Then when you come to the final page, you are informed that it is going to cost you dollars to file your taxes, and you immediately begin to wonder what happened to the free e-file.
At this point you need to understand that the website that you used to prepare the tax forms is there to make things easier for you, and those types of sites are not free to use. This is not a case where the e-filing is trying to rip you off. This is almost the same as having an accountant, and you would not want your accountant to work for free, would you?
Using an e-file option is a good idea especially for people who do not know very much about how to file taxes, and what numbers go into the correct box on the Forms. That is why TaxExcise.com an e-file service provider is here to make things easier for you when it comes to preparing and filing your Forms just by changing a traditional paper form into an online simple and easy to understand questionnaire.
Do you think that using a paid service in order to be aware of an extra thousand dollars that the government owes you is a good investment? Common sense says, YES.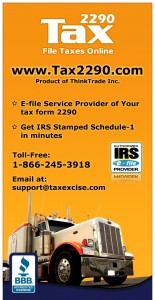 We are in the industry since IRS introduced the E-file service for Form2290 and we were the first to be certified by the IRS. Now knowing the fact that filing forms are never easy when there are many do's and don'ts, we have put a lot of effort to make it simple and user friendly to make sure You stay at piece after you finish filing with us.
Americans spend 3 billion hours per year filling out tax forms and keeping tax records. Why not lesser the time spent in filing forms and have more leisure time with your Friends& Family? That's what we offer you!
We would like to thank you-all for your continuous support and providing us with the opportunity to serve to you. We understand our customer's needs and we work through it to reach our each customer's level of satisfaction, there is no Full Stop in serving you with our best high standards.
To satisfy the fact said above, here again we have come up with a promotional offer. Not limiting to the existing users, this offer could be availed by each one of you who is preparing and getting ready to file Form 2290. The INDEPENDENCE WEEK Promotional Offer of flat 20% discount on all our one-time and seasonal package offers. This offer is valid through July 8th 2012. So Hurry Up, the clock is ticking!
E-file your Form 2290s with your very own friend www.Tax2290.com and make use of our best high standard support and features. Again, Thank you and we sincerely hope that we completely satisfy you with the service provided to you and will avail yourself of our expertise again in the future. We are always interested in suggestions that would allow us to improve upon our already high standards and encourage you to submit your thoughts.
Tax2290.com is now accepting returns for Tax Year 2012 – 2013. Log on to Tax2290.com and complete your filing of HUVT. Their Tax Experts are working even on Weekends to assist you all the way through your filing, they can be reached @ 1-866-245-3918 or you can write to them @support@taxexcise.com.