The highway use tax (HVUT Form 2290) applies to highway motor vehicles with a taxable gross weight of 55,000 pounds or more. 2290 tax returns must be filed and tax payments must be paid by August 31 for the heavy motor vehicles used on the road during July. The deadline generally applies to Form 2290 and the accompanying tax payment for the tax year that begins July 1, 2020, and ends June 30, 2021. For motor vehicles first used after July, the deadline is the last day of the month following the month of first use.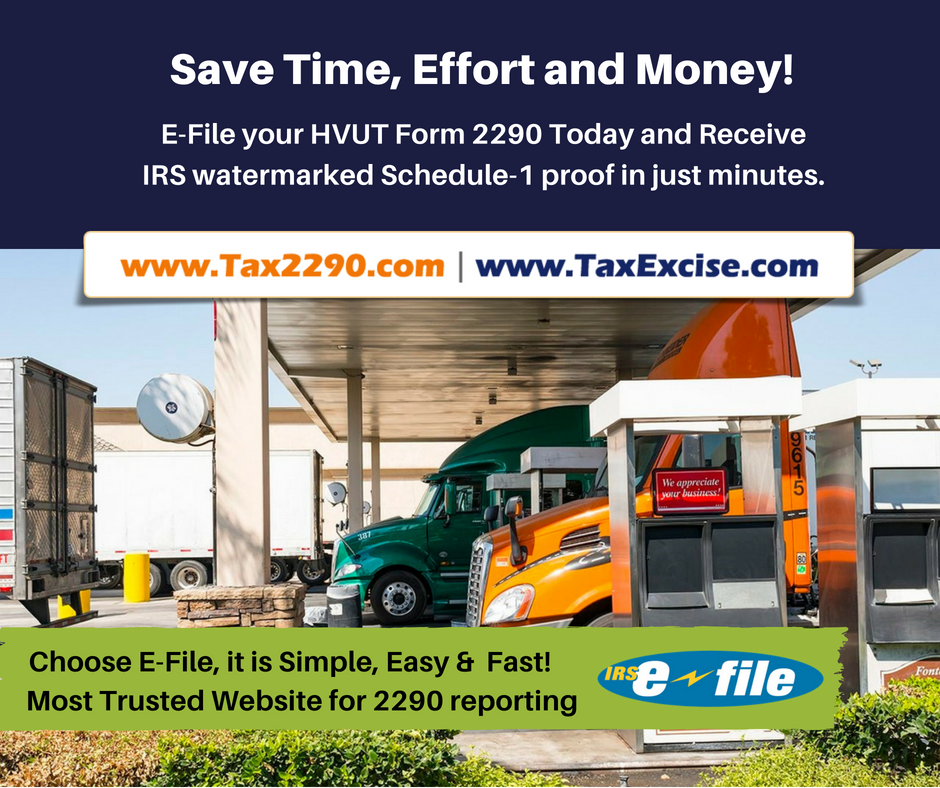 Today the d-day for 2290 truck tax reporting and electronic filing is the best way to have this reported and paid with the IRS. TaxExcise.com a product of ThinkTrade Inc. is in full swing supporting the truckers to have this 2290 taxes reported on time. The Truckers who is missing out this August 31, 2020 deadline would end up paying more as late filing charges, penalty and interest on the tax amount. Why pay more? act fast and report your 2290 truck tax returns online. It is easy, fast and safe to do it at TaxExcise.com. Top Rated and Market Leader for all Federal Excise Taxes.
Form 2290 eFiling Support
TaxExcise.com the most experienced and the first website to get authorized by the IRS since 2007 is working in full swing to help truckers and owner operators to have this 2290 Truck Tax returns reported and paid to the IRS on-time. The IRS processes and issues you the Watermarked Schedule 1 Proof of Payment with a date on it would act as an acknowledgement to have your vehicles renewed or registered with the federal agencies.
Talk to us at 866 – 245 – 3918, we have multiple lines to accommodate any number of calls to help you with your 2290 efiling. You can also connect with us through a LIVE Chat support from our website. Writing an email can help us to keep track of your support ticket and help you instantly.